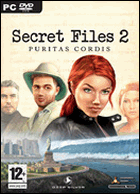 Secret Files 2 - Puritas Cordis
Total download size:
6.5GB
Ordering is easy:
Purchase the Full Game.
Download the game immediately.
Broadband Connexion Download times: 2Mb/s: 444 Min. 8Mb/s: 111 Min. 20Mb/s: 45 Min.
Secret Files 2 - Puritas Cordis Description
The world is on the verge of a catastrophe. By the time Nina Kalenkow realizes that the recent disasters were caused not by nature, but by a ruthless secret society known as Puritas Cordis, it is almost too late.
While her ex-boyfriend, the scientist Max, witnesses the savage operations of Puritas Cordis first hand at the site of an ancient temple in Indonesia, Nina joins forces with a vicar in France to uncover the connection between the secret society's shocking prophecies and a sinister leader of the order who lived hundreds of years ago. A dramatic race against time begins.
Will Nina be able to avert the impending Apocalypse?
Features :
Point&Click adventure for PC
Official sequel to Secret Files: Tunguska, the most successful point & click adventure on PC in 2006
Spectacular graphics, cutscenes of cinematic quality
Four sometimes cooperatively playable characters
Professional acting
Easy controls with the innovative optional Snoop Key® puzzle help
Minimum System Requirements :
Intel Pentium III 800MHz or compatible CPU
Operating system: Windows 2000, XP, Vista
Graphics card: 32MB AGP or PCI Express, DirectX 9 compatible
Mouse
Intel Pentium III 800MHz or compatible CPU
Operating system: Windows 2000, XP, Vista
Graphics card: 32MB AGP or PCI Express, DirectX 9 compatible
Mouse
Secret Files 2 - Puritas Cordis
News Secret Files 2 - Puritas Cordis
Reviews for Secret Files 2 - Puritas Cordis
Cheats & Tips for Secret Files 2 - Puritas Cordis
Downloads for Secret Files 2 - Puritas Cordis
Video Trailer - Secret Files 2 - Puritas Cordis
Screenshot Gallery - Secret Files 2 - Puritas Cordis