This item is currently unavailable in your country.
Anno 1800 - Deluxe Edition
Preorder Now!
You will recieve your key when the game launches on the 31/02/2015 at 0:00.
NOTICE: Activation key must be used on a valid Uplay account. Requires internet connection.
NOTICE: The activation only works in Europe, Africa, Middle-East, Oceania, Japan & South Korea.
Preorder offer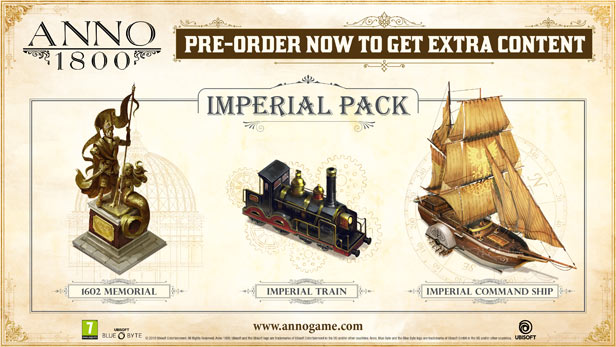 Pre-order now and get three extra in-game items:
Anno 1602 Memorial: Celebrate the 20th anniversary of the franchise with an iconic Anno 1602 statue and increase your city's cultural value.
Imperial Train: Stand out with this richly decorated model, and travel the railroads like no one else.
Imperial Command Ship: An exclusive starter ship to make a remarkable entry into the game.
Deluxe Edition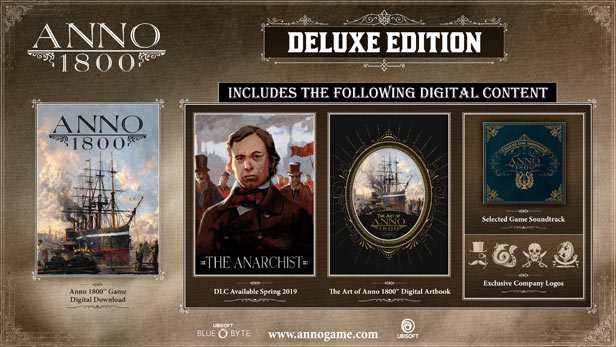 Take your Anno 1800™ experience to the next level with the Deluxe Edition, which includes the game and the Deluxe Pack.
The Anno 1800 Digital Deluxe Edition contains:
The full game
The first DLC as soon as it is released, with exclusive icons for your company
The digital soundtrack
The digital art book
About the game
PIONEERS OF A NEW DAWN
Lead the Industrial Revolution in Anno 1800™!
Experience one of the most exciting and fast-changing periods of all time. Discover new technologies, continents, and societies. Build a new world in your image! All the ingredients are gathered for a memorable Anno experience. Travel throughout the world during the Industrial Revolution to write your own story!
Key Features
ANNO AT ITS BEST
Anno 1800 combines beloved features from 20 years of Anno history, such as individual AI opponents, randomly generated maps, multisession gameplay, and more. It delivers a rich city-building experience, including a story-based campaign, a highly customizable sandbox mode, and the classic Anno multiplayer experience.
DISCOVER A NEW CONTINENT
You will get the chance to explore South America with its exclusive resources and opportunities, but also its risks and challenges. Cross the ocean to discover a new world and take the most of what it has to offer.
JUMP ABOARD THE ANNO UNION
Join the team from Blue Byte in the creation of Anno 1800! Get the latest news, development insights, and behind-the-scenes content on anno-union.com and help us shape the future of the franchise.
© 2018 Ubisoft Entertainment. All Rights Reserved. Anno 1800, Ubisoft and the Ubisoft logo are registered or unregistered trademarks of Ubisoft Entertainment in the US and/or other countries. Anno, Blue Byte and the Blue Byte logo are registered or unregistered trademarks of Ubisoft GmbH in the US and/or other countries.