Might & Magic Heroes VII – Deluxe Edition
This item is currently unavailable in your country.
Might & Magic Heroes VII – Deluxe Edition
NOTICE: Activation key must be used on a valid Uplay account, requires internet connection.
DELUXE EDITION
---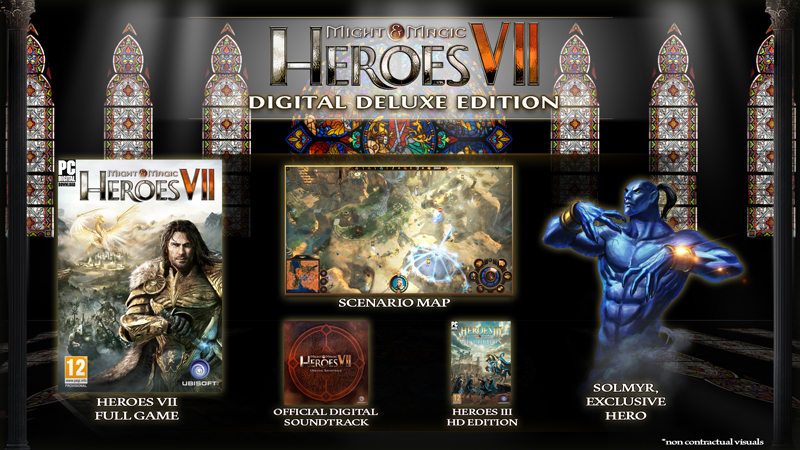 The Deluxe Edition contains:
An exclusive hero
A scenario map
The full digital soundtrack and Heroes® III - HD Edition
ABOUT THE GAME
---
Our story takes place during a war of succession. The Empress' murder has left a realm in flames with many hungry rivals ready to seize the throne by force. The Duke Ivan then calls together a prestigious council of six trusted advisors to restore order and end the conflict that set ablaze Ashan's lands.
Might & Magic® Heroes® VII
makes a triumphant return bringing you the essence of turn based strategy gaming. Set in a fantasy universe with RPG progression with a strong story narrative, you will embark on a journey that you will never forget!
KEY FEATURES
---
Explore and conquer the enchanted world of Ashan


Develop and manage your economy


Lead armies of legendary creatures to battle


Build up Heroes of Might & Magic with hundreds of abilities and powerful artifacts
SYSTEM REQUIREMENTS
---
Minimum:
OS: Windows 7 SP1 or Windows 8/8.1 (64bit only)
Processor: Intel Core i5 660 3.3 GHz or AMD Phenom II X4 955 @ 3.2 GHz
RAM: 4 GB
GPU: nVidia GeForce GTX460 or AMD Radeon HD5850 (1024 MB VRAM)
Recommended:
OS: Windows 7 SP1 or Windows 8/8.1 (64bit only)
Processor: Intel Core i5 2400 @ 3.1 GHz or AMD FX-6100 @ 3.3 GHz
RAM: 6 GB
GPU: nVidia GeForce GTX670 or AMD Radeon HD7870 (2048 MB VRAM)
Required configuration
Minimum:
OS: Windows 7 SP1 or Windows 8/8.1 (64bit only)
Processor: Intel Core i5 660 3.3 GHz or AMD Phenom II X4 955 @ 3.2 GHz
RAM: 4 GB
GPU: nVidia GeForce GTX460 or AMD Radeon HD5850 (1024 MB VRAM)
Recommended:
OS: Windows 7 SP1 or Windows 8/8.1 (64bit only)
Processor: Intel Core i5 2400 @ 3.1 GHz or AMD FX-6100 @ 3.3 GHz
RAM: 6 GB
GPU: nVidia GeForce GTX670 or AMD Radeon HD7870 (2048 MB VRAM)
Language:

English

Genre:

Platform:

Win 7 64 bits Win 8 64 bits Win 8.1 64 bits WIN 10 64 bits

Number of players:

1

Release date:

30/09/2015

Publisher